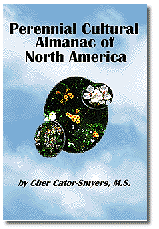 Perennial Cultural Almanac of
North America
by Cheryl Cator Smyers, M.S.
South Creek Nursery of Palmyra, New York


$19.95 plus $7.99 shipping and handling


THIS NEW BOOK, is a comprehensive listing of 1,250-plus perennials including tissue culture introductions grown and enjoyed throughout the United States and Canada with complete in-depth descriptions. And it's all available now just in time for Spring!
Full descriptions include hardiness, zone, height, spacing, color reference, flower and foliage specifications, flowering time and duration, soil recommendations, plant type, lighting requirements, and placement in over 60 suggested theme gardens. Also included are perennial plant terms, pronunciation, garden terms, reference listing, and a four color Pictorial bookmark.
With so many gardening references, coffee table style books available, I became frustrated like so many others looking from here to there for information about certain perennials. One resource may have a generic paragraph, another a shortened account, or no real mention on the perennial I needed. Aquilegias come in so many seedling varieties, all unique, with no real literature available except what might be found in seed catalogs. And they change from one year to the next. So I compiled the Almanac from all of my best resources, and my expreience at raising these hot items into an Ideal Handy Quick Reference Guide that lumps all the pertinent information into one, easy portable dictionary. The Almanac is 6" x 9", paperback with short, consise blocks of data about each perennial. Not long, extensive paragraphs, but quick access to the information desired.
A comprehensive reference guide, perfect for the home gardener, commercial grower, landscape architect, professional landscaper, horticultural educator or student, or garden center retailer who needs immediate cultural information, quickly and accurately. The book is designed to compliment the limited information found on most perennial picture tags!
No previous horticultural background is necessary to source out or find the desired information on a favorite or exciting perennial and the recommended theme gardens.
Quick Answers to Common Questions
The book features an easy, alphabetical listing by common name and botanical name. The Almanac covers most trendy, common, and uncommon perennials available in garden centers and plant and seed catalogs in the USA & Canada.
It is designed to clarify common perennial questions, such as will it grow around my deck or patio. If it isn't mentioned exactly, it's cousin is, and you are sent into a closer orbit of similar information.
The book makes an ideal trend list, grower's guide, back pocket landscaper's tool. It bridges the gap between what entices the perennial garden enthusiast and their pursuit within the garden market for the new, the different, or the unusual.
Reviewed as "Two Green Thumbs Up", by Doc & Katie Abraham of the Green Thumb Show, The American Nurseryman Association Magazine, Canada Horticulturist, Hobby Greenhouse Magazine, NM Pro Magazine, Horticulture Science Magazine, and the NYS Nureryman's Fall Issue, it has been featured at the 1997 Mid-Atlantic Show, The New England Spring Garden Show, Rochester 1997 Gardenescape, 1997 Ohio Short Course, as well as on Garden.com and the Grow Zone Web pages. The Perennial Almanac is a unique reference guide written from one experienced gardener to another hobbist/professional.
Availability
Single Copies are available from South Creek Nursery for $1

9

.95 (US), plus applicable sales tax and shipping. ($6.

99

covers priority US mail envelop)
Special Quantity Discounts are available for single-order quantites of 12 to 50 copies.
Bulk Purchase Discounts are available on orders of 50 copies or more. Please call us for details on your best price.
Book Signing? I am available anytime for your organization, at no charge. Contact us for details and scheduling.