§ THE WINE SHOP §
TROPHY BAGS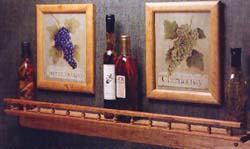 Welcome to our Wine Shelf and our Exclusive Service that makes you feel like a true connoisseur.
Specially Drawstring Bags and Sacks
(Velvet / Satin/ Flannel /Poplin)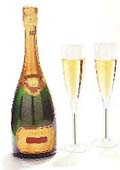 We specialize in Rapid Turnover, Small Runs, Short Orders 1-2000 pc, Top of the Line, High Quality Custom Cut / Sewn Velvet Bags!
All our bags are custom designed in USA.
Specially Bags for that prefect Presentation:
Let our VELVET packaging make your presentation.. beyond special .. but Memorable!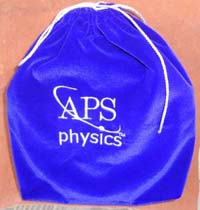 Royal Blue Soiree, single side Silver rattail pull pouch
Exclusive for American Physic Society Silver Plate presentation
China Embassy 2012
Designed to hold any Award such as trophy, plaque, or box holding Award.
Generally the bag has crop bottom, single side pull to the back, back seam, left unknotted for bow tie.
Comes with 5/5 cord, but rattail will also work.
Made unlined or with lining.
~~~~~~~~~~~~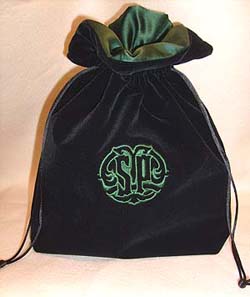 Specially created for Perrier - 2009
Black Soriee, full green satin lining, crop bottom,
black satin rattail pouch pull
Let us prepackage your Trophy or wine/ Champagne / liquor gift Or Special Product with an unusual touch of warmth for any Holiday, Special Occasion, or Special Event!
Simply TELL ME ABOUT YOUR ITEM!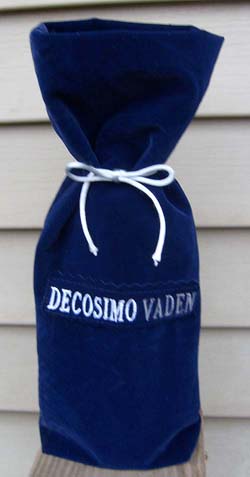 Navy Blue Soiree, High Top Wine, Silver Satin Rattail Wrap cord Selected to congratulate the recent winners
from the CMA 2011 awards
We will cater to your event.. any size or quantity!
Made exclusively to your order here at our nursery.. all season long.
We make custom to your Needs!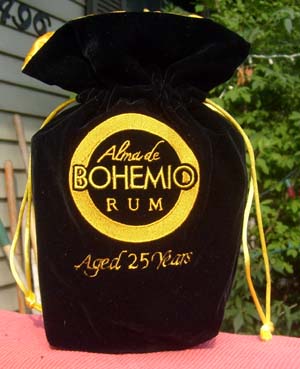 Gold Satin Cap, Pouch Pull, Black Soiree, satin rattail cord.
You call is very important to us!
Your Presentation is very important to us!
Be sure we have all your information - so that we may provide you excellent service and feed back.
No job is too Big or Too Small!
Our Bags are:
Available in Classic Styles,

Unique sizes,

Single or Dual Pull drawstring,

Flat edge, Taper Corner or Gusset bottom,

Made in Basic Velvets, Satins, and Flannels,

With or Without Satin Lining,

Satin Cap

Drawstring - Regular 5/5 - or 6/9 cord, or Rattail.

with or without tassel,

Embroidery Custom to your requirements
TOTAL IMAGE TRANSFER

Any Color you Dream About!

We will make to whatever
Size & Shape bag you need!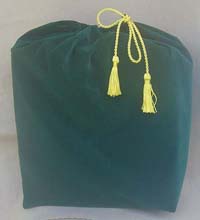 Green Soiree, single side pull, crop bottom
Exclusive for The Hartford Stag Presentation
_______________________
Think Holidays???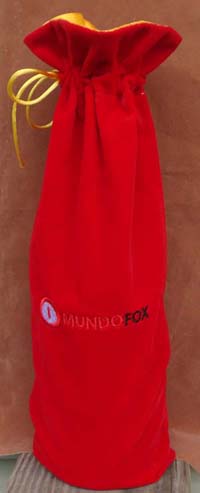 Champaign High Top, Satin Cap, Single side satin rattail cinch
in Rich Red Soriee
Trophy Presentation bags???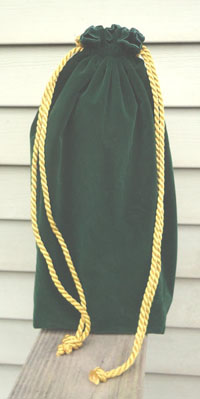 Lord Abbott NY - Knight Trophy Award - 2012
Dark Green Soiree Pouch, fully satin lined, Antique Knotted Cord Cinch
Now Available - in any size you need!
We will Create a BAG to Fit your trophy, or the box shape!
Tell Me About the Trophy
and the Event.
Free Job Quote

Just fill it out .. and Tell Me about your Project criteria!

Simply email , Fax Me, Text me details about your event.. and we can quote your job ASAP.
Call Cher @ SCNOP/ Cator Enterprises,
PO box 252, Palmyra, NY 14522;
(315) 597-5330 office
585 734-3423 Cell
mobile - 585 734 3423
585 734 3423 Text

Email: admin@sexybloomers.com ; epfd34@aol.com; epfd34@gmail.com
You Call is very important to us.
BE sure to provide us all your contact information.
~~~~~~~~~~~~~~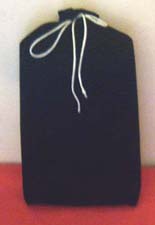 Glass Etched Trophy - Elemental Design Award 2012
Black Soriee, crop bottom, silver satin rattail cinch
********
We offer many Styles
Standard terms ..
flat bottom (bag is a straight cut at the bottom with corner points sticking out) - typical for wine or any beverage bottle - this is the standard bag
gusset bottom bag (bag as the corner points sewn and cropped - so bag sits square) - this is idea as a box bag, or picture frame bag -- etc. - cost extra
Satin Lining - extra -
yellow gold is usually standard in stock, but we can offer Black and Red.
Satin Cap - extra - yellow gold just at the top or throat of the bag.
drawstring bag.. has a 5/5 knotted drawstring - ours usually at the top - standard bag

straight up bag -
bag has no drawstring, is like a sleeve - like a paper grocery sack (usually flat bottom)
high top flute - Drawstring starts about about 2" down from the top. Can be single pull or dual pull.
In drawstring bags -
single bottle bag -
holds one bottle - standard style
Dual bottle bag -
sized wide enough to hold 2 bottles
Trophy / Award Bags - holds one typical statue - generally a square shape bag with single side, back seam pull, crop bottom
Plate / Award Bags - holds one typical plate (6-8-10") - generally a square shape bag with single side, back seam pull, crop bottom
Magic Bags - Holds all those tricks in just the right pouch. Generally a square shape bag with pouch pull 5/5 cord, and satin lined.
Wine Bags, Rum Bag, Vodka Bag, Champagne - besure to tell us bottle size and options.
Drawstring pulls - cinch closure
Single one side pull - one drawstring - 5/5 cord - usually pull to the right - standard style knotted, no tassel
Double pull - typical 2 opposing drawstrings - pulls close to center - typical for a pouch. Knotted without tassel.
Single wrap cord - usually at base of bottle neck - or half way down - acts like a ribbon - bow tie knotted.
Image Logo Transfer Service - Extra
Embroidery

-
Top of the line Image Logo process. Digitized with optimum thread count, total color match. Exclusive to job. May require authorization for duplication.

Total Image Screening - Total Image Transfer - Any image - Gif, Jpg, PDF file can be totally transferred via computer graphic / Iron fix process. Silk screen like with no blurred edges.
Select Image Screening - Patch Decal Transfer - Any image - Gif, Jpg, PDF file is reduced to perfect Decal scale and transferred via Iron fix process. Silk screen like with no blurred edges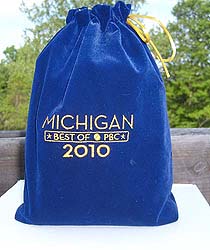 Trophy Bag - Pepsi People's Choice

FABRIC CHOICES:

Generally all our bags are made of Rich Soiree Velvet.
Soriee is Top of the Line Plush.
Soiree is soft, woven velvet. Soiree is plusher, softer, dry clean or machine washable. Soiree is more expensive, but the end product is exquisite.

Standard color available:

NAVY, ROYAL BLUE, DARK GREEN, BLACK, BURGUNDY

, SCARLET

RED, WHITE, IVORY & LILAC.

RICH VEL
LESS PLUSH - MORE LIKE SUEDE

Rich Vel is a Nylon Velvet. Soft and washable.

Colors available: Black, Grey, Brown, Burgundy, French Bread, Royal Blue, Peacock, Ed Blue, Purple, Lavender, Velva Red, Raj Pink, Orange, Apricot, Gold, Kelly green, Jungle Green, and White.

STANDARD NYLON VELVET

Simplistic velvet in the tradition of Jewel Velveteen.
Colors available: Black, Coffee, Doeskin, Burgundy, Dior Red, Royal Blue, Navy, Forest Green, Red, & Violet.

EUROPA SUEDE VELVET

A blended fabric geared for more jacket - imitation leather stock.
Colors available: Black, Mocha, Chestnut, Cashmere, Plum, Navy

All are machine washable and dryable.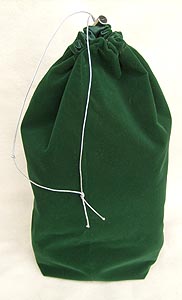 Dark Green Soiree (satin lined)
single back side pull created especially for
World Wild Life Foundation - 2011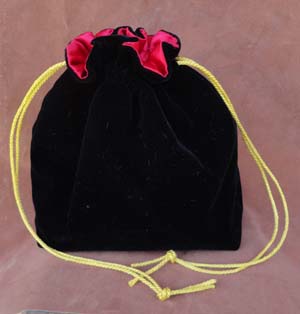 Magic Bag - black soriee with red satin lining
Special Order them NOW!
NEED UM BY Fast???


WE CAN USPS OVERNIGHT EXPRESS
FOR AS LITTLE AS $45.99!
JUST REQUEST ON OUR ORDER FORM!
ASK FOR DETAILS!!!


When using the form, open a new browser window before clicking buy it now button above.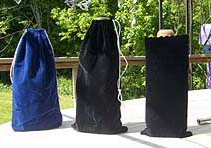 double pull, single side pull, the straight up