Home





************

HOW TO PURCHASE!
All Our lights may be purchased using
Our New Shopping Cart System!
Our Shopping cart will securely accept any major credit card, Money Order as well as PayPal!
Credit Card Purchases are not automatically billed until Items are ready to ship.
Shipping charges are suggested only and may be adjusted to correct rate upon shipping.






Email for Quantity / Case Pricing!
Refunds & Returns ~~ Patio Lights, etc.:
All Sales are considered final unless a problem occurs.
We will accept returns or exchanges according to the following conditions:
On all Online ordering: My return policy is simple.
All postage / handling Fess are non refundable.

I will accept returns for Exchange Only within 30 days of issue.

If a light string fails - The Original Light suppliers will send you FREE replacements for damaged or non functioning lights.
This prevents loss of unnecessary shipping/ handling fees.

You are not required to return the defective light to receive replacement.
Lights that have been used or are in anyway damaged, do not qualify for a refund/ exchange, and one will not be issued.

Lights that are returned for ill function, are accepted for Exchange Only.

Any Light returned for any other reason than they are broken or not functioning are subject to a 20% restocking fee.

We no longer issue Cash Refund on items returned that are not damaged.
We will issue Web Site Product Credit that can be used for other purchases.
A Credit Certificate (less the 20% restocking fee) will be emailed.

If the original supplier deems the original item unavailable / discontinued, They may elect to ship a substitute. This is beyond our control. We will try to email you in advance that a substitute has been issued.
If the substitute is unacceptable, it maybe returned for exchange or web site credit only. Shipping / handling is non refundable.

No Cash Refund will be provided.
We will not issue Cash Refund for Gift Certificates.
We will accept Gift Certificates, redeemable toward most Web Site listed items / Web site Credit.

EBAY change of heart. Lights purchased on Ebay are non returnable for refund of any kind. We will authorize Exchange for a similar / like value item at no extra charge.

Large quantities (any order over one set per item) are considered special order and a restocking charge of 20% is applied and deducted from the issued Credit. A Web Site Credit will be issued for further purchases.

Any order over 1 (one) set per item placed by customer for their review or sample, may be returned, but is subject to a 20% restocking charge. This charge will be deducted from the Credit. All Shipping and Handling is non refundable.
We will reship whatever item that arrives beyond repair, replacement cost free, but the customer must pick up the shipping charges.
All USPS Shipping/ Handling is non refundable. We do recommend that customers notify us immediately, so that we may discuss options.
Ebay items may be returned for exchange ONLY.
USPS shipping / handling fees are non refundable.
No cash refunds are issued,
only Web Site Product Credit that can be used toward purchases of other items.
Damaged patio lights must be replaced by the original supplier according to their terms and conditions..

EASTER:

EGGS ETC.? -- yup these are the big ones!!!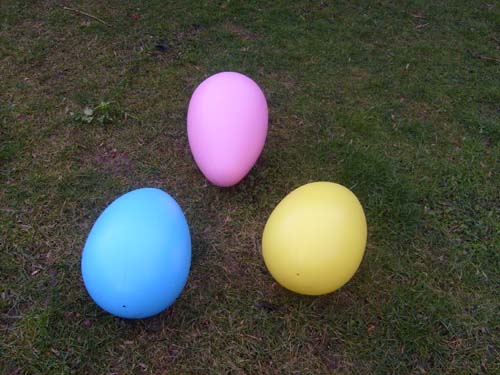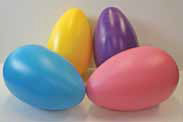 THE JUMBO GIANT EASTER LAWN EGG

FROM THE UNION PRODUCTS MOLD.

THIS IS THE ORIGINAL PLASTIC EGG

CLASSIFIED AS THE 16" BLOW MOLD EGG.

(RATED - circum. is 33", diameter is 9" and length is 16"

" Considered 18" FROM TIP, OVER THE HUMP,
TO THE TAIL)

Thickness of plastic is 50-60 thousands.
(THIS IS NOT THE MILE KIMBAL EGG)

THEY DO NOT OPEN - BUT YOU CAN CUT THEM OPEN

once you soften the plastic surface with a blow dryer.

Dents can be fixed also by applying blow dryer heat on low or med setting.

THE BOX IS BIG

Giant Plastic Eggs - IN STOCK THE BIG ONE!!!
Yikes! We'd hate to see the size of the hen that laid these whoppers! All yolking aside, These are huge eggs in assorted colorful pastels. Constructed of tough, weatherproof plastic, they can be hung (simple instructions included) or filled with sand. Jumbo grade eggs measure 16"L with a 24 1/2" circumference. Express shipping not available. Made in USA. -

Egg surface can be warmed up with hair dryer to pop out any dents.

Eggs do not open.. but once surface is softened with heat.. an electric blade / saw can make an incision (hole) to stuff them. Once egg surface cools .. it will become hard again.


3 OR 4 PACK BOX.. SELECT LARGE FLAT RATE BOX - Party Light Shipping on the cart

3 PACK BOX PINK, YELLOW, BLUE - 16" INCH $99.99

4 PACK BOX PINK, YELLOW, BLUE, PURPLE -

16" giant egg $125.99
SINGLE EGG - Select Med Flat Rate Bx shipping
16" GIANT EGG - YELLOW $20
16" GIANT EGG - PINK $20
16" GIANT EGG - BLUE $20
16" GIANT EGG - PURPLE $20
PLENTY ARE ALWAYS INSTOCK
EMAIL ME - NICKI - FOR QUANTITY DISCOUNTS
SEE OUR EGGS ALSO ON AMAZON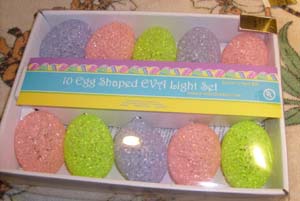 EASTER JELLY LIGHT STRING - 8 FT LONG WITH END TO END CONNECTORS
$12.99

EASTER FLOATING CANDLES

GLOW IN DARK ETC.?

MAKE THE NEST - GLOW IN DARK ETC.?s.

Some Easter Fun to Cheer Us Up!


Select Non Patio Light shipping option on cart! Shipping is $9.99 + 3.99 cart processing fee!
(Please open a separate browser page prior to clicking the blue buy button ) -- Accepting Online


SHIPPED VIA USPS PRIORITY MAIL ACROSS USA ~ 2-3 day service
NOVELTY SMALL 10 LIGHTS SHIPPING:
Small 10 lights as follows:
1 string = $8.99 (2 lb priority box with delivery confirmation)
We Ship USPS Priority Mail with Delivery Confirmation!
All orders are assessed a one time $3.99 Handling fee.

Email to: admin | info | webmaster
Sexybloomers Inc. / Cator Enterprises
P.O. Box 252 | Palmyra, New York 14522
Telephone: (315) 597-5330
Fax: (315) 597-6892




Copyright © 1996 South Creek Nursery of Palmyra. All rights reserved.
Information in this document is subject to change without notice.