Home
















TO ALL SHOPPERS!
Our Cart system accepts Visa, Master Card, Discover, Paypal, and Money orders.
The Shopping Cart will accept your order but will not automatically bill your card unless you pay with Paypal.
The Shopping cart assess a $3.99 cart processing fee.
Be sure to select the correct shipping option when you complete your order.
Shipping is suggested only, and is adjusted to the correct value when your order is processed.
Orders that are processed / billed and then canceled will be charged a restocking fee.
If you need a quote.. Use our Online Order form and let us Invoice you!
Just Fill out the Order Form Completely, Click Send &
let us Calculate the best Shipping rate to your location!
Just Click

& Give us your info!
We accept Visa, Master Card, Discover, & Paypal!

HALLOWEEN
MUSIC CD
TO BOO YOU!!!!!
FOR A VERY LIMITED TIME....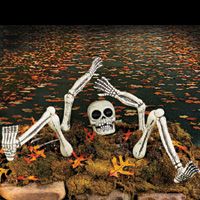 Music to Ghoul by!
CD's are non returnable and Non Refundable..
Always select Party Light Shipping category!
Shipping is $7.99


Fright Flicks Sequel CD - Hear the tale of the Saw! $29.99




Halloween CD
Songs include: Monster Mash, The Time Warp, Ghostbusters, Macho Man, Bad Moon Rising, Purple People Eater, Rock Lobster, Hot! Hot! Hot!, Soul Man, Let's Go Dancin, Disco Inferno, Twilight Zone, Don't Leave Me This Way, Super Freak, Stayin Alive, Spooky. $29.99

Born of the Night CD
Songs include: Premonition, Darkness Descends, Born of the Night, Lost Souls, Dark Tower, The Apparition, Gargoyles, Lurking Fear, Shadows, Whispers, Solemn Reflections, Haunted Nursery, Woe, Masque of Sorrow, Requiem, Dungeon, Something Wicked, Vampire's Kiss, Nightstalker, Midnight, Forbidden Crypts. $29.99



Electronic Voice Changer
3 Voice options $19.99

HALLOWEEN SOUNDS OF TERROR (CD) Halloween "Sounds of Terror" CD. A full 45 minutes of terrifying sound effects on compact disc. Shrink wrapped. $19.99



Gates of Delirium
Songs include: Arrival, Welcome, Haverghast Asylum, Halls of Insurrection, Cage of Solitude, Residents Past, Adelaide, Phantom Sentinels, Gates of Delirium, Non Compos Mentis, Procession of the Damned, Infestation, Room 47, Dark Discovery, Morbid Fascination, Dead of Night, Alternative Therapy, Crimson Door, Unrest in the East Wing, Ebony Shroud, Sleep Tight. $29.99


Vampyre
Songs include: Awakening, Graveyard, Unhallowed Ground, Crypt of the Forsaken, Winged Fury, Blackest Rose, Ravages of Time, Catacombs, Unseen Eyes, Undead Hunters, Ancient Tomes, Dusk, Spectral Masquerade, Vampyre. $29.99


Music from the Crypt CD
Drew's Authentic $29.99


SHIPPED VIA USPS PRIORITY MAIL ACROSS USA ~ FOR 2-3 DAY SERVICE
CD SHIPPING AS FOLLOWS - ALWAYS SELECT PARTY LIGHT SHIPPING

:
1 = $

7.99

(2 lb priority box with delivery confirmation)
cc PROCESSING CART Handling fee: $3.99

Email to: admin | info | webmaster
Sexybloomers Inc. / Cator Enterprises
P.O. Box 252 | Palmyra, New York 14522
Telephone: (315) 597-5330
Fax: (315) 597-6892




Copyright © 1996 South Creek Nursery of Palmyra. All rights reserved.
Information in this document is subject to change without notice.