Thinking Gift Certificates?



CONGRATULATIONS!
You have Selected
a SCNOP/Sexybloomers.com Gift Certificate!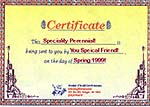 For any Occasion!
Again...Something unique from Sexybloomers.com

How it works... Use our online form to request a printed a Gift Certificate.
You may either request a certificate for an item or for a dollar value.
Tell us the Recipient & gift message - we can mail them the certificate or email you a copy to present.
If an item, we will charge you when the item is ready to ship. If a dollar amount.. we will charge you prior to sending the certificate.
Thanks for selecting our FREE Gift Certificate service.
Gift Certificates are valid for 1 year of issue.

MERCHANDISE CERTIFICATE - BY ITEM
A SEPARATE PAGE WILL OPEN - FILL IN WITH INFO!


$10 certificate


$25 certificate


$30 certificate


$50 certificate


$75 certificate


$100 certificate


$200 certificate
Select non party light shipping
There is a $3.99 handling fee and a $5.99 Flat Rate Priority Mail Envelope shipping fee per order. (select Non Party Light category for shipping on the cart - we will adjust the s/h for the correct envelope price before we run the manual charge to your credit card.)
Or go to our Online Form -


Put the amount in the Item blank, and fill out our online order form with your info

Tell Us - Who the Certificate is for and from! Address and such.. and Your personal message.


We will then book that amount into our system and issue an order number!

To redeem the Certificate.. ..
The certificate may be used on any item offered by Sexybloomers.com.
(It can not be applied towards any Bench Racing Diecast, Ebay Item, or Shipping/ handling fees.)
Make a selection of Items from our Website:

Make Sure Your Selection totals the value of the

Gift Certificate. Everything we list is up for Grabs!
Return the Certificate with your selection to:


CATOR ENTERPRISES / SCNOP


PO box 252, Palmyra NY
315-597-

5330
The shipping for the items

selected

will be

billed to

the Certificate Giver!
The Items will be shipped when they are ready anytime during the season via Priority Mail!
Gift certificates can be issued at anytime.

Such a great idea!

Sexybloomers.com is Dedicated to the Comedy & Romance in Gardening… If it isn't fun why do it!


Email to: admin | info | webmaster
South Creek Nursery of Palmyra
P.O. Box 252 | Palmyra, New York 14522
Telephone: (315) 597-5330
Fax: (315) 597-6892




Copyright © 1996 South Creek Nursery of Palmyra. All rights reserved.
Information in this document is subject to change without notice.